What is a spread in betting?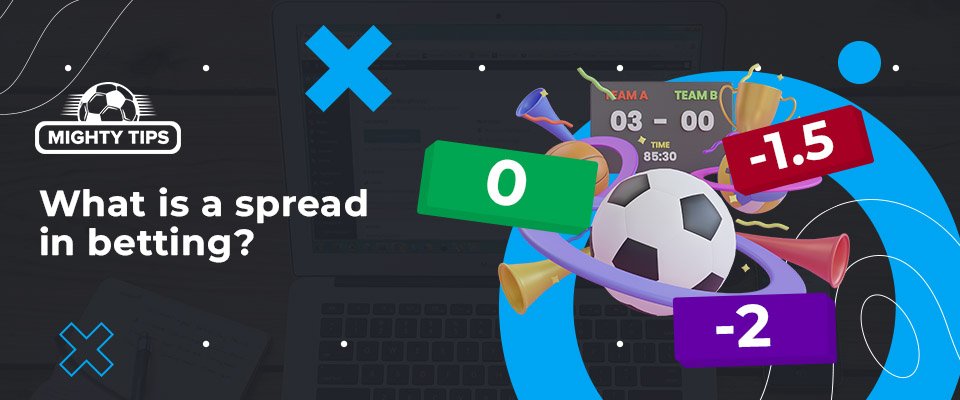 Punters can enjoy a wide variety of types of bets when it comes to online sports betting. Considering how many options are out there, any bettor can find something suitable to their taste and preferences. One of the most popular bets is a straight bet that is also known as a "match-winner". Basically, straight match-winner bets are individual wagers of punters that are placed on the team or player who will likely win the game. In general, there are so many options you can choose from: money lines, futures, accumulators, Asian handicaps, over/unders, and many more.
How about spread bets then? What is a spread in betting? Spreads are equally popular with match-winners and are especially in demand when it comes to placing wagers on football and basketball. So, let's get spread betting explained. A point spread wager is a bet placed on which team or player will come out as a winner according to a point spread. In turn, a point spread is a certain number that oddsmakers create in order to determine the gap between the potentially weaker and stronger competitors and make them more or less equal. Also, the potentially weaker side is called the underdog while the potentially stronger one is called the favorite. Each team or player gets assigned or handicapped with points, and this gives them an equal chance to win the match.
We already got spread betting explained in the previous section. Or at least its basics. But now let's move on to the part where we discuss how does spread betting work. As we have said, points spread bets are also known as equalizers since they equal the chances between the two given competitors. It's obvious that teams are not created equal and they don't perform in the same ways. There is nothing surprising about the fact that some teams or players will do better than others.
This is why oddsmakers can come up with a point spread to level up the chances between both sides. Spread betting was created so that players could get more motivated to place bets on both teams or players and not just the one that is known as more capable of winning. At this point, let's get to the sections where we explain the concept with the examples seen in different types of sports.
What is a better way to explain the principle than going straight to examples? Now, let's talk about basketball spread betting - LA Lakers and New Orleans Pelicans are the teams of the National Basketball Association that is more commonly known by its shortened name of NBA. Most punters would go straight to placing a wager on LA Lakers as a winning team while fewer people would bet on New Orleans Pelicans. So in this case, the LA Lakers team is a favorite and the New Orleans Pelicans team is an underdog.
The thing about NBA spread betting is that you won't necessarily have to bet on the team that is known as a stronger one. Because as we said, the chances are equal due to the assigning or handicapping points to both sides. So, basically, in this basketball spread betting case, the New Orleans Pelicans team, the underdog, will receive a virtual head start before the game even starts. When coming up with the betting markets, a sportsbook finds out who's a favorite, identifies it, and lists it as a minus sign (-). The underdog gets a plus sign (+).
Let's imagine a hypothetical match between LA Lakers and New Orleans Pelicans. As part of the NBA spread betting market, a bookmaker will list the following:
LA Lakers - 6.5 vs New Orleans Pelicans +6.5
This illustrates that the LA Lakers team is the favored one to win the match while New Orleans Pelicans is shown as the underdog. Basically, you can bet on both sides - you already know that. For example, if you go for point spread betting and wager on the LA Lakers team, they have to win the match by 7 points. If you decide to bet on the Orleans Pelicans team and expect a cash prize, then the players have to win by a maximum of 6 points. So, it's just important to be exact about the points and it's worth it to give both teams a chance. But before you place a point spread betting wager, please, make sure you know which team/player is the favorite and which one is the underdog.
Football Sports spread betting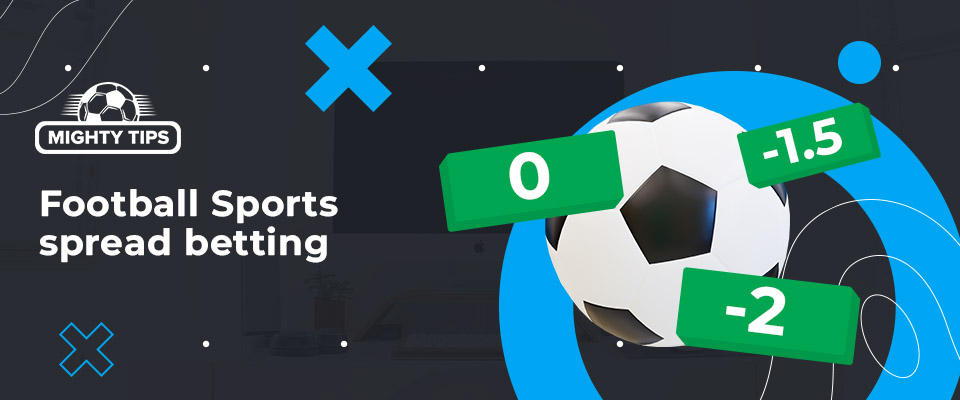 As we already mentioned, even though sports spread betting is used in many major sports, football and basketball remain to be the most popular ones in this area. Since we already talked about basketball sports spread betting, it's time to get to the football part and provide you with some examples.
So, what is a spread in betting when it comes to football competitions? Basically, the same rules apply - both teams are assigned or handicapped with a certain number of points and a certain sign (+ or -). The plus sign goes to the underdog while the minus sign goes to the favorite. Let's go with an example and say there's a hypothetical match between Dallas Cowboys and New York Giants - those two teams participate in the NFC East which is the league that was founded in 1967. Imagine that you have this board on the sportsbook website:
Dallas Cowboys - 1.5 vs New York Giants +1.5
First of all, it's worth mentioning that Dallas Cowboys is the favored team and the New York Giants is the underdog, which you can notice yourself thanks to the + and - signs. If you place a spread betting wager on Dallas Cowboys as the winner, the team will have to score 2 points but if your sports spread betting wager goes to New York Giants as the winner, the underdog will have to win a game with 1 point.
As you can see, sports spread betting can even out the chances in the competition between both teams in an instant. Not only the chances are evened out with spread betting but the bettors themselves are also more motivated to place bets not just on the favored team but on both.
The coolest thing that modern punters have to know is that they can go with different forms of payment processing which includes spread betting cryptocurrency use too. When you want to place wagers on any of the sides, whether it's a favored team/player or an underdog, you can go with crypto spread betting with no problem.
Basically, it works the same way: you take a look at the values given by the oddsmakers and bookmakers, find out who the underdog is and who turned out to be the favored competitor, make a decision, choose a stake, and enjoy the match - crypto spread betting is not too different from regular spread bets, except for the preferred payment method.
Also, no matter if you prefer regular spread betting or bitcoin spread betting, we want to say that the numbers given by online bookmaker websites on their sites may be presented as both:
Decimals - you can see such numbers as 2.5, 3.5, 4.5, or other values
The whole numbers - you can notice such sportsbook values as 2, 3, 4, or others.
So what is a spread in betting? Let's come up with a small conclusion and end our review which we hope was helpful for you. One more time - spread bets are supposed to level up the chances between two sides by giving a virtual head start to a potentially weaker opponent. The weaker one is known as the underdog and the stronger one is known as the favorite. Basically, it motivates punters to make their gambling journey more interesting and bet on different competitors depending on the given values.