1xBet Registration & Login in the Philippines
Content
1xBet is a popular sportsbook in the Philippines. The betting site offers a wide array of gambling products. As a bookmarker, it is easy to access and register. However, you need more details on on-site registration, owning an account, and any challenges you might face in the steps.
Follow the step by step instructions given in our guide to registering. The procedure is the same across the 1xBet platforms for both download, app, and instant play versions. We highlight any possible errors or problems you may encounter.
A significant benefit is that account creation, and registration is free. The steps are straightforward and take a little while to complete. The bookmarker does not request such information. Also, the confirmation steps do not start unless you are making a withdrawal.
Opening your account follows these simple steps:
1xBet Registration & Login in the Philippines
1xBet registration and login undergo simple steps. With a continuous or uninterrupted internet network, you can register and log into your account in a few minutes. The login steps focus on customer conveniences and follow three types.
You can register and log in using the 1xBet app on your mobile phone
Use your desktop or PC to access the website and register
Both the app and desktop betting site versions follow similar steps when registering. Be sure to read through the registration step by step guide.
How to Register at 1xBet?
Step 1: Download the app or search for 1xBet online
If you are using the 1xBet app, make sure to download it to your mobile phone. Your phone should have enough space or use the latest versions for Android, iOS, or Windows. It helps work with the 1xBet mobile browser. The app runs flawlessly, allowing you to create your account with the bookmarker.
Once the download is complete, follow the instructions to install the app entirely. Select on 'Open' to continue and create an account.
For the online website or mobile browser, the steps are far more straightforward. Search for a 1xBet website online using your laptop, desktop, or mobile phone. On the website, you can proceed to register.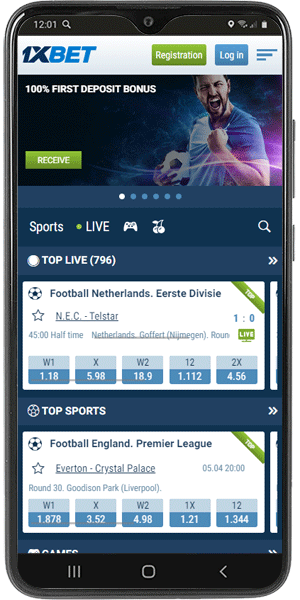 Despite accepting social media at 1xbet registration, this method may not be very useful depending on the country you are in.
Step 2: Open a new account
On the app is a pop-up window that appears after you select open. On the top right-hand side are 'three lines'. Select them, and several icons will appear. Select the User icon. A drop-down menu will appear with other instructions. Select on 'Registration'.
On the website for the mobile and PC versions, the Registration icon is visible to anyone. It appears on the top side in the right corner of the site. Select on it to open a different window. The window is what to use to create an account.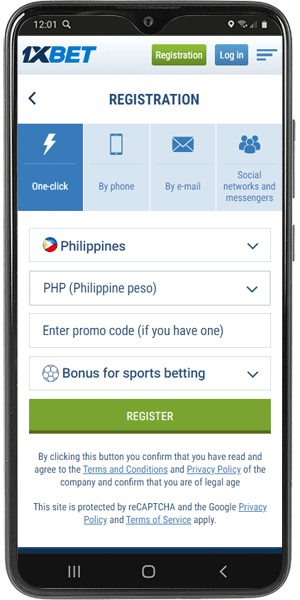 Step 3: Enter Create Account Data
Account creation is easy as you can either use a manual registration or a social media platform. A Full Registration follows your social media accounts and collects data from there. However, depending on your country, it may limit your access to 1xBet.
You can use your email address to create the account. You will need to enter your full names, 'surname and first name,' country of origin, the preferred currency to use, and a strong account password.
Don't forget to choose an easy to remember username when making your 1xbet registration.
Before selecting Create Account, make sure you read the terms and conditions. They appear at the bottom of the application form. You do not have to worry if using an app or a mobile version. The steps are similar.
Once all the data is complete, read through it once again. Remove any errors and select 'Create Account'.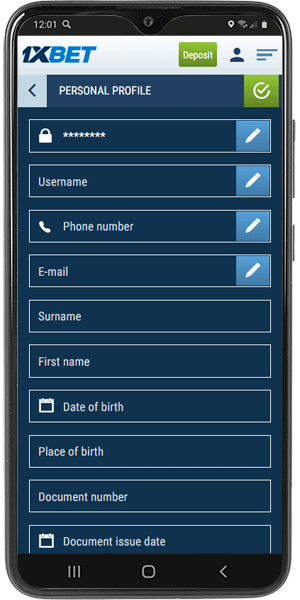 Step 4: Activating the account
The first step towards account activation is verifying you are human. The only way to do that is by proving you are not a robot. After the submission of the code, you can proceed to log into your account.
It is advisable to write down the details of your 1xBet registration account. The site will ask for a verification code or instruct you to verify the account using your email. You will receive a confirmation notification in your email. Use it to log into your account.
In some cases, the confirmation email may go to the spam section. Some users set their emails to delete suspicious emails automatically. Look at the spam section for the confirmation article.
On your app, select on 'the three lines' on the top right-hand side. Choose 'Sign in' to 1xBet to access your account.
If using your desktop, select on the 'login' button. It is visible on the top side of your screen.
With these steps, you unlock your account. It is important to note that your name and details are now on the sportsbook site system. You can scroll through the site and read through the site's terms and conditions.
If comfortable with the terms, you can proceed to claim the 1xBet bonus. Claim any other compensation and promotions the sportsbook has to offer. Go ahead and start wagering.
1xBet Sign Up bonus for Philippines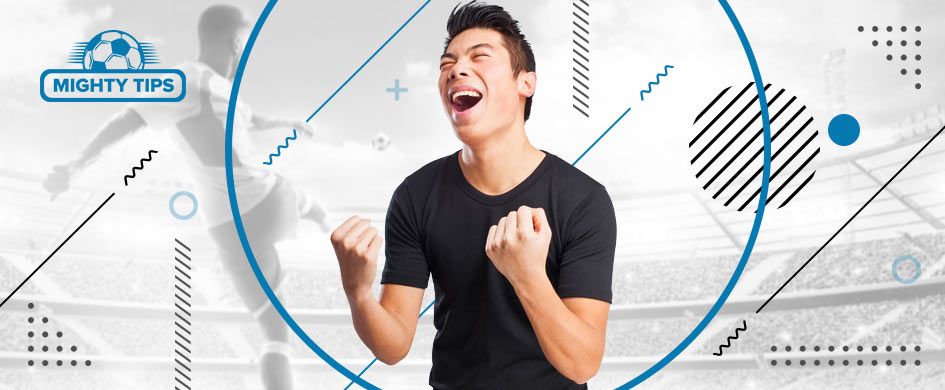 Once you gain 1xBet access, you can claim any of their offers. As a new member, you can claim the 1xBet welcome or sign-up bonus. As a newly registered player, you can claim 5,400 pesos as a welcome bonus.
Use 1XPH promo code to claim an amazing 1xBet offer!
However, you need a welcome bonus code to access the bonus successfully. The code is available in your account on the bonus and promotions sections. Enter the bonus code and claim the prize. The sportsbook will immediately credit the amount to your account.
| | | | |
| --- | --- | --- | --- |
| Payment Method | Deposit Minimum | Deposit Maximum | Deposit Time |
| VISA | $1 | N/A | Instant |
| Mastercard | $1 | N/A | Instant |
| Credit card | $1 | N/A | Instant |
| Bank Wire | $1 | N/A | Instant |
| Skrill | $1 | N/A | Instant |
| Neteller | $1 | N/A | Instant |
| Webmoney | $1 | N/A | Instant |
| Bitcoin | $1 | N/A | Instant |
Registration Errors
The step by step is simple, but mistakes or errors still do happen. When you sign-up 1xBet, you have to practice caution when entering your information. Incorrect data can lead to account suspension, cause a long confirmation or information verification period, and delay your sportsbook entertainment. However, not many know the errors that are likely to happen. Here is a simple highlight for you:
Complex Usernames
A complex username is challenging to remember. It is essential to choose a username dedicated to the 1xBet site. If it is too difficult, pick your email and make it your username. It is default and easy to remember.
Lost my 1xBet account number
We advised players to record their account numbers and passwords by writing them up in the first steps. That can provide backup in-case you forget or lose your account number. Plus, the confirmation notice on your email can provide another source for your account number and details.
Password Change
Forgetting the password to your sportsbook account is a regular occurrence. It is the main reason for many password changes. So, if you desire to change your password, you should:
Check the profile section. Select on change password. It is only applicable if already signed up and logged into the account.
Tap the 'Forgot my password' if logged out and cannot access 1xBet.
Request for a password change through email or using your phone number. 1xBet is the Philippines provides its players with assistance in every possible way.
Log in Error
Log in Error only happens if you enter the wrong username or user password. If it appears, re-enter your login data. Check if all the names or characters are correct and try to log in once again.
Conclusion
1xBet registration allows you to register, login, and start wagering. You will need to provide personal data for verification if you want to cash out or make a deposit. This makes the registration steps the simplest and most convenient for players in the Philippines.